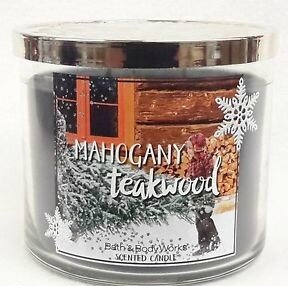 Bonjour tout le monde!
Aujourd'hui je fais une pause avec Yankee Candle pour me concentrer sur bath and body Works. La marque a très bonne réputation et c'est vrai qu'on la cite souvent pour sa bonne diffusion et ses parfums réussis. personnellement j'aime assez peu de fragrances chez eux, je les trouve assez chimiques et banales, sauf bien sur pour ma mint chocolate (je ne l'ai toujours pas terminé d'ailleurs, mais je la sniffe régulièrement, mon petit plaisir).
Les best seller de la marque tels que la marshmallow grillée m'ont laissé assez indifférente, mais j'avais tout de même envie de tester la Mahogany Teakwood, parce que j'en ai entendu beaucoup de bien!
A froid j'avoue qu'elle ne m'emballait pas, c'est pourquoi je l'ai oublié près d'un an dans un tiroir... honte à moi! Car une fois allumé j'ai vraiment aimé l'odeur, une odeur très fraiche, un brin masculine mais pas tant que ça, elle est boisée c'est vrai mais ce n'est pas une odeur lourde pour autant, et surtout pas entêtante! Une belle odeur de bois de plage! Elle a bien embaumé, mais pas plus que ça, soit c'est parce que j'ai tardé à l'allumer, soit c'est parce que toutes les bath and body works ne se valent pas.
J'ai mis un 4/5 car je l'ai beaucoup aimé, mais pas au point de dépenser des mille et des cents pour l'acquerir à nouveau!!